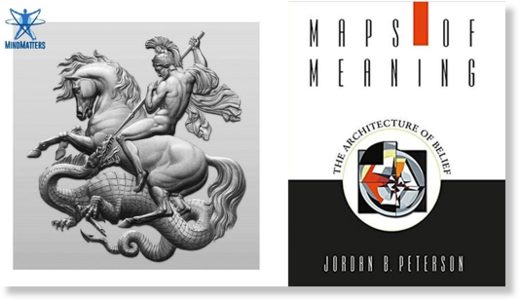 Dr. Jordan Peterson's 1999 classic Maps of Meaning contains much the raw material for his more recent lectures and writing. While a dense read at times, it's worth the effort. On this episode of MindMatters we take a look at the first sections in Chapter 2, which explore the universals of human experience: the unbearable present, the encounter with chaos, and its transformation into the ideal future.
With examples from everyday life and neuropsychology, Peterson shows how we are hardwired to respond to novelty, constantly comparing our present state with our ideal future – however vague our notion of it may be. And how the inescapable presence of chaos and novelty mean we must constantly adapt our goals and the steps we take to reach them, constantly learning in the process and constantly transforming the present into the future.
For a discussion on the Introduction and Chapter 1, see:
The Truth Perspective: An Introduction to Jordan Peterson's Maps of Meaning: Explaining Evil and Transforming Chaos
[embedded content]
Running Time: 01:18:32
Download: MP3 — 71.9 MB
Harrison Koehli co-hosts SOTT Radio Network's MindMatters, and is an editor for Red Pill Press. He has been interviewed on several North American radio shows about his writings on the study of ponerology. In addition to music and books, Harrison enjoys tobacco and bacon (often at the same time) and dislikes cell phones, vegetables, and fascists (commies too).
---
Born and raised in New York City, Elan has been an editor for SOTT.net since 2014 and is a co-host for MindMatters. He enjoys seeing and sharing what's true about our profoundly and rapidly changing world.
---
Corey Schink was born and raised in the Midwestern United States, where he worked on farms and as a welder, musician, and social worker. His interests in government, philosophy and history led to his writing for SOTT in 2012 and to becoming a SOTT editor and SOTT Radio co-host in 2014. He now resides in North Carolina, where he enjoys the magnificent views of the Appalachian Mountains.