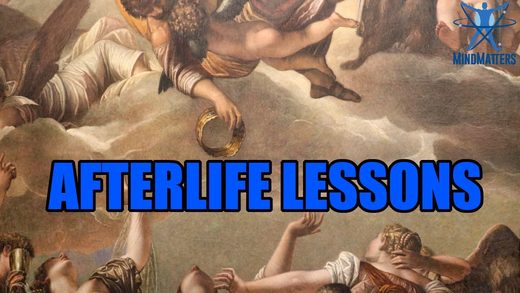 © SOTT
While materialist scientists and academics dismiss the possibility out of hand, there is not only an extensive amount of research suggesting the validity of reincarnation, near-death out-of-body experiences, and the like – but also much more to the reality of an afterlife than many people assume. Through automatic writing and the use of mediumship there exists a whole body of literature that presents such a world to us. While perhaps impossible to prove the validity of this material, it is worth taking a look at it.
This week on MindMatters we examine some of texts that make the case for what life after death might look like, what functions the 'place' serves, what people do there, and how beings on that plane of existence seem to be acutely aware of the challenges and struggles of those who live and breathe in our 'land of the living'. We'll also be discussing the implications of this information and what it might possibly mean for the choices we make, and how we live our lives in the here and now.
[embedded content]
Running Time: 01:20:19
Download: MP3 — 73.6 MB
Harrison Koehli co-hosts SOTT Radio Network's MindMatters, and is an editor for Red Pill Press. He has been interviewed on several North American radio shows about his writings on the study of ponerology. In addition to music and books, Harrison enjoys tobacco and bacon (often at the same time) and dislikes cell phones, vegetables, and fascists (commies too).
---
Born and raised in New York City, Elan has been an editor for SOTT.net since 2014 and is a co-host for MindMatters. He enjoys seeing and sharing what's true about our profoundly and rapidly changing world.
---
Corey Schink was born and raised in the Midwestern United States, where he worked on farms and as a welder, musician, and social worker. His interests in government, philosophy and history led to his writing for SOTT in 2012 and to becoming a SOTT editor and SOTT Radio co-host in 2014. He now resides in North Carolina, where he enjoys the magnificent views of the Appalachian Mountains.