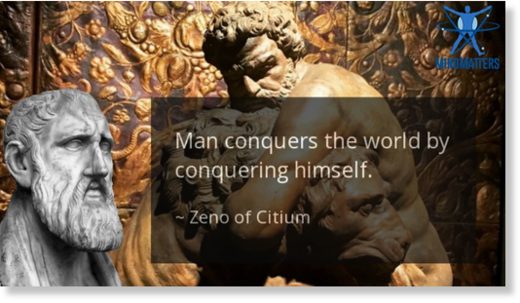 What good is philosophy? For the Stoics, among other schools, philosophy is dead if it is not fully lived. That's why the Stoics presented not just a system of logic and cosmology, but also a way of living – to put into practice the principles on which the system is built. But while the Stoic schools that taught this way of life died out many years ago, that doesn't mean that Stoicism is no longer an option for people today. Stoicism has experienced a revival in recent years.
Today on MindMatters we take a look at one modern presentation of practical Stoicism, laid out in William B. Irvine's Guide to the Good Life, as well as complementary methods and practices from other systems, like G. I. Gurdjieff's "Fourth Way." Whether you go "full Stoic", like Irvine, or merely adopt some of their practices to integrate into your daily life, there's a lot to learn from the Stoic sages of old, and their modern interpreters.
[embedded content]
Running Time: 00:59:16
Download: MP3 — 54.3 MB
For our previous discussion on Stoic cosmology, see: Books mentioned in the show:
Harrison Koehli co-hosts SOTT Radio Network's MindMatters, and is an editor for Red Pill Press. He has been interviewed on several North American radio shows about his writings on the study of ponerology. In addition to music and books, Harrison enjoys tobacco and bacon (often at the same time) and dislikes cell phones, vegetables, and fascists (commies too).
---
Corey Schink was born and raised in the Midwestern United States, where he worked on farms and as a welder, musician, and social worker. His interests in government, philosophy and history led to his writing for SOTT in 2012 and to becoming a SOTT editor and SOTT Radio co-host in 2014. He now resides in North Carolina, where he enjoys the magnificent views of the Appalachian Mountains.