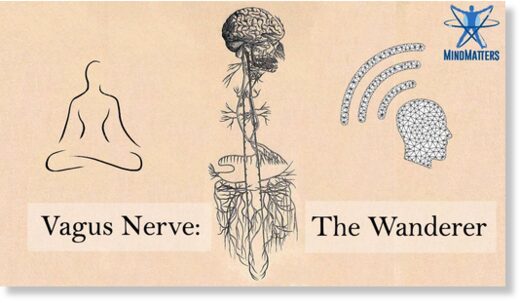 What does meditation or contemplation have to do with our physiology? And what is the possible connection between our autonomic nervous system and a coherent theory of psi? Today on MindMatters we bring together three topics: contemplative practice (see our interviews with Fr. Joseph Azize), first sight theory (see our interview with Dr. Jim Carpenter), and Stephen Porges's polyvagal theory, as discussed in a recent book by Stanley Rosenberg, Accessing the Healing Power of the Vagus Nerve.
Porges's work on the two branches of the vagus nerve, and the states of consciousness they are involved in, has important implications for physical and mental health. But the connections may go even further than that, into areas considered spiritual or even paranormal. The states facilitated by ventral vagus nerve activation have a lot in common with the conditions most conducive to eliciting psi, both in the lab and in everyday life. And together they may explain certain features of contemplative states and practices.
[embedded content]
Running Time: 01:11:32
Download: MP3 — 65.5 MB
Harrison Koehli co-hosts SOTT Radio Network's MindMatters, and is an editor for Red Pill Press. He has been interviewed on several North American radio shows about his writings on the study of ponerology. In addition to music and books, Harrison enjoys tobacco and bacon (often at the same time) and dislikes cell phones, vegetables, and fascists (commies too).
---
Born and raised in New York City, Elan has been an editor for SOTT.net since 2014 and is a co-host for MindMatters. He enjoys seeing and sharing what's true about our profoundly and rapidly changing world.
---
Corey Schink was born and raised in the Midwestern United States, where he worked on farms and as a welder, musician, and social worker. His interests in government, philosophy and history led to his writing for SOTT in 2012 and to becoming a SOTT editor and SOTT Radio co-host in 2014. He now resides in North Carolina, where he enjoys the magnificent views of the Appalachian Mountains.