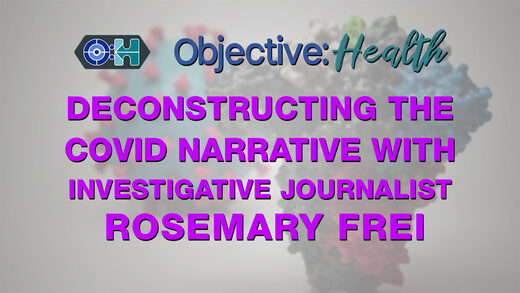 Today on Objective:Health we interview independent investigative journalist Rosemary Frei. Rosemary has an MSc in molecular biology from the Faculty of Medicine at the University of Calgary, was a freelance medical writer and journalist for 22 years before she had had enough of the industry, the lies, the shady Big Pharma influence and moved on to dig deep and report the Truth. Rosemary has written for OffGuardian, Global Research and you can find many of her articles on Sott.net. You can also follow her on Twitter @RosemaryFreiTO
Join us for a fascinating discussion on the great Covid swindle, vaccines, viruses and dubious "fact-checking" organizations. She goes into detail about how little is actually known about SARS-CoV-2 and what the implications are for the vaccine, testing, immunity passports and even the state of the research itself.
You won't want to miss this one!
[embedded content]
And check us out on Brighteon!
Links to sources discussed in the show:
Rosemary Frei and Patrick Corbett's article on the revelations from a whistle-blowing Bulgarian pathologist:
"No one has died from the coronavirus"
Rosemary Frei's article fact-checking the 'fact checkers' on the Bulgarian pathologist's revelations:
Fact-Checking a "Fact-Checker": A Response to HealthFeedback.org
Rosemary Frei and Amory Devereux's article on how the novel coronavirus doesn't fulfill Koch's postulates:
Scientists Have Utterly Failed to Prove that the Coronavirus Fulfills Koch's Postulates
Rosemary Frei's article on deaths in long-term-care homes:
Were conditions for high death rates at Care Homes created on purpose?
Corbett Report interview of Rosemary Frei regarding her article on deaths in long-term-care homes:
Corbett Report: Rosemary Frei on how the high death rate in Care Homes was created on purpose
Rosemary Frei's article on Bill Gates revealing the reason behind the lockdown:
Did Bill Gates Just Reveal the Reason Behind the Lock-Downs?
The lengthy and excellent article about what happened to Dr. Andrew Wakefield:
L'affaire Wakefield: Shades of Dreyfus & BMJ's Descent into Tabloid Science
And the 54-tweet thread by Rosemary describing the main points in the article about Dr. Wakefield (written in response to three people on Twitter who challenged her assertions that the article clearly shows Dr. Wakefield's reputation was destroyed unjustly):
https://twitter.com/RosemaryFreiTO/status/1084674128060153856
https://twitter.com/RosemaryFreiTO/status/1084677791516225536
https://twitter.com/RosemaryFreiTO/status/1084681568822603776
The study Rosemary referenced that compares vaccinated and unvaccinated children:
Analysis of health outcomes in vaccinated and unvaccinated children: Developmental delays, asthma, ear infections and gastrointestinal disorders, Brian S Hooker 1 , Neil Z Miller 2
The testimony by a US pediatrition about the dangers of vaccines:
Dr. Lawrence Palevsky Testimony: Unvaccinated Children Are "The Healthiest Children I've Ever Seen"
For other health-related news and more, you can find us on:
♥Twitter: https://twitter.com/objecthealth
♥Facebook: https://www.facebook.com/objecthealth/
♥Brighteon: https://www.brighteon.com/channel/objectivehealth
♥And you can check out all of our previous shows (pre YouTube) here.
Running Time: 00:49:38
Download: MP3 — 45.5 MB